If you use Google's free office suite, there's an easier way—a built in research tool that lets you search for the information you need and easily add it to the Google Doc or Google Slide you're working on without having to leave the page. Here's how to get started.
Access the research tool
Google offers three ways to access the research tool pane. From within a document or presentation, click Tools > Research. If you prefer keystrokes, type Ctrl + Alt + Shift + I on a PC or Ctrl + ⌘ + Shift + I on a Mac. The third way is to begin a specific search by right-clicking a word (or in the case of a phrase, highlighting it then right-clicking) and selecting Research from the drop-down menu. In each case, the research pane will open on the right side of your document or slide.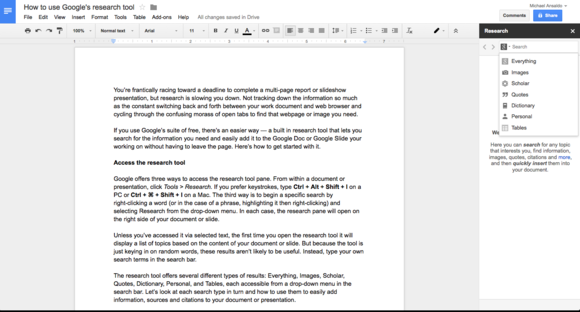 Unless you've accessed it via selected text, the first time you open the research tool it will display a list of topics based on the content of your document or slide. But because the tool is just keying in on random words, these results aren't likely to be useful. Instead, type your own search terms in the search bar.
The research tool offers several different types of results: Everything, Images, Scholar, Quotes, Dictionary, Personal, and Tables, each accessible from a drop-down menu in the search bar.